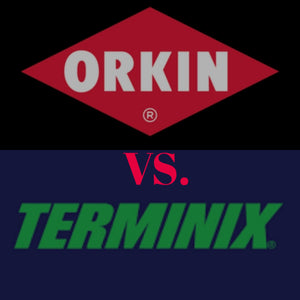 Are you looking for the best and most permanent solution for the pests in your home? 
We have just the right information for you in this detailed article and a comprehensive guide to finding the best pest control exterminating companies. Dealing with different pests can be challenging so it's a good idea to get familiar with the most prominent names in the industry and evaluate if there is a need to contact pest control near you.
So, let's dive right in and see what the exterminators are all about and compare the most popular ones to make your choice and decision-making process easier.
How Do Professional Exterminators Work?
Professional exterminators have a detailed approach that allows them to determine the type and the severity of the infestation and find the optimal solution. Considering not all pests are the same and many homeowners worry about the chemicals used it's important to choose the right company.
The entire bug and pest control has a few stages, such as:
Confirming, identifying, and assessing the infestation
The exterminator services need to go through a detailed examination of your home, and possible entry points and confirm what type of pests you are dealing with. This can include the entire home, basement, attic, and yard as various pests have different habits.
Finding and applying the right solutions
There are many different tools, methods, and solutions your pest exterminator might suggest based on the previous step. Some homeowners don't like harsh chemicals and radical solutions, but there should be a middle ground. Depending on the severity and the type of infestation the pest service can suggest traps, lures, pesticides, and other treatments.
Ensuring long-term results
The best exterminating companies always offer some kind of guarantee for their work. This can include re-visiting the home and ensuring that the infestation is eliminated successfully or repeating the treatment if there are more pests present. Some companies offer a money-back guarantee while others manage the pests for free.
Are Exterminators Better than DIY Solutions?
Pest control for homes can be a challenging task depending on your location, the pests at hand, and the severity of the infestation. While there are some amazing traps and eco-friendly solutions you can try, there are also times professional help is needed.
The most common pests you can have in your home are roaches, bed bugs, silverfish, and ants. In some homes, there are also termites, flies, and rodents, as well as some of the bigger animals such as squirrels, raccoons, and even snakes.
If you see a couple of roaches crawling around you can try the simple glue trap or if you wake up with itchy bites you can place a couple of interceptor traps to catch the pests. Most of the time early intervention can resolve serious problems in the future, but if the infestation is not manageable and the damage is becoming substantial it's best to call local exterminators.
Orkin vs. Terminix 
If you are looking for local exterminators, chances are you are going to find Orkin and Terminix as the top results. The two companies are very well established and have over two century's worth of experience behind them. 
But, which one is better and when should you consider one or the other to deal with the pest problem in your home? Let's see:
Orkin Overview
Orkin company is one of the most popular pest control establishments you can find and they have been on the market since 1901. The Orkin's professionals cover most states and respond to urgent calls the same or the next day.
They specialize in termite and bed bug treatments, but this pest company also deals with roaches, ants, spiders, rodents, silverfish, ticks and so much more. The treatment plan in Orkin depends on the pest and the severity of the infestation, as they have various offers from one-time treatments to annual packages where professionals continuously monitor your home.
One of the best things with Orkin, besides their expertise, is the free initial consultations where you can find out more about the treatment, pest, and the cost of the plan. Some users consider the Orkin pest company to be more on the expensive side, but there are many reasons why the treatment plan might be at a higher cost.
Terminix Overview
Terminix is another very popular pest control company that has been on the market since 1927. They have specialized teams prepared to deal with any pest you might have in your home, including but not limited to bed bugs, roaches, termites, moths, ants, rodents, mosquitoes, and others.
Apart from being very well organized and equipped the Terminix company considers seasonal infestations and helps customers choose the best treatments. They have many plans available, from one-time sessions that are meant for minor infestations to all-year-round solutions. They focus on prevention and barriers as the best solution for areas where certain pests come back seasonally.
Terminix has slightly higher prices than the competition, especially for one-time services and recurring services. This is why it's a good idea to check your options and find the best pest exterminators that offer true value for money spent.
Orkin vs. Terminix - Plans
Both Orkin and Terminix have great plans to suit the needs of various clients and infestations. But, depending on your location and the severity of each case the price and plans vary. 
Here is a quick overview to help you understand pest companies better.
Orkin Plans
Orkin offers various payment plans including monthly, quarterly and annual

The type of the service and duration determine the plans

Users can pay via AutoPay using the bank check card or credit card

There are specific pest coverage plans for termites, bed bugs, mosquitoes, and ticks
Terminix Plans
Plans often depend on the location

Multiple specialized plans are created to eliminate centipedes, moths, roaches, ants, and other pests

Some services include termite coverage, bed bug removal, mosquito service, and tick control
Orkin vs. Terminix - Cost
If you are looking for pest control companies online you know that the well-established and popular ones usually have higher prices. While it's natural to charge for the experience and the methods used, you should always consider local exterminators with competitive prices and high-quality services.
Orkin Cost
Orkin pest control programs range in price from $45 to $55 per month. Termite control costs between $1,500 and $5,000, depending on the size of the house. Bed bug treatments often cost between $500 and $1,500.
Terminix Cost
For regular pest agreements, Terminix costs between $50 and $75 per month. Termite treatments start at $2,000, although bed bug eradications often cost less than $1,200.
Orkin vs. Terminix - Customer Reviews
"The last time that my house was treated, I wasn't home but I received the text notification that the reps from Orkin were on their way. Then, I received another text notification that they were there and would be treating my home. I was glad that they let me know that they were going to be there and what time they were going to be there. I always had the same technician who treats my home. He's good and always asks me if there is any problem. He told me to call and let him know if I need him to come back and he will do another treatment. He's even giving me advice for some other things, like termite inspection. My initial problem was an ant infestation when I first moved into my home. It had been empty for a long time so I needed to have it treated. Then, I found out from other neighbors that ants are a problem in our neighborhood. So, I decided to keep the service. I have a treatment every other month and it's been great. I'm not having a problem." - Stacey of Edgewood, MD
"I've been with the company for 35 years. I get an inspection once a year, and in the entire time that I've been with them, I've had one suspicious incident. A few years ago, I thought I had a termite swarm in the yard, and they came and re-treated the area in the back. It was a pretty good response, but the technician wasn't very nice. I should have known that it was not termites though. Most of the techs have been pretty nice. Unfortunately, Terminix is doing what a lot of other companies are doing. When you have a service call, they try to show you another product, and while it may suit a lot of other folks, it didn't suit me." - R. of Ga, GA
How to Find the Best Pest Control?
Finding the best way to deal with pests can be very stressful, especially when you have an urgent and spreading infestation. So, once you have tried all of the immediate DIY solutions and you have our detailed comparison above, you should consider the following list for finding the best exterminators near you:
Research the company

- Doing a simple Google search of the company can tell you a lot about the business, its professionals, and the overall price of the treatment. If the site is informational, helpful, and professional, chances are the business is serious.

Read reviews

- It's easy to find and read reviews from previous customers. This can help you decide if the company is what you are looking for. Go through all the experiences, including the negative ones to get a full picture.

Ask for recommendations

- It's always a good call to ask your family and friends for honest recommendations. There is nothing better than a direct and reliable experience from the people close to you to help you with the process.

Consider the license

- Exterminator and pest control companies deal with dangerous and very potent chemicals, so you need to make sure they are properly trained and have the license to back it up.

Think about the price and plans

- The most expensive pest control service is not always the best one, and vice versa. This is why you need to consider smaller and local pest control companies as well as well-established giants such as Orkin or Terminix.
Conclusion
Dealing with pests is not new, but it's an industry that keeps growing and finding eco-friendly solutions. With this idea in mind, we have composed a detailed guide that will help you make an informed decision based on real facts.
So, no matter if you want to hire big companies like Orkin, Terminix, Aptive, or Erhlich, or you want to
find a local exterminator near you
, you now know how to choose the best one.