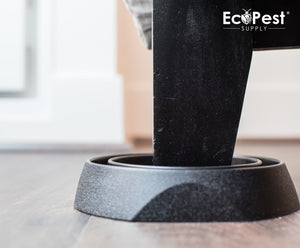 If you suspect you might have a bed bug infestation in your home, you are in the right place. We have the best tips and tricks that will help you detect and get rid of those nasty pests. One of the best ways to detect an infestation is with the help of a bed bug interceptor.
A bed bug interceptor is a simple tool you can place under your bed post to trap the bed bugs that are trying to climb to the bed or escape to their hiding places. This simple yet effective gadget will help you determine the severity of the infestation and make it easier to choose the appropriate steps to get rid of the pests.
So, if you want to learn more about this bed bug trap, keep on reading.
What Are Bed Bugs?
Bed bugs are small, brownish insects that live in places where people reside the most, like bedrooms, hotels, and other spots where they have easy access to food. Considering they only feed on the blood of mammals, and they prefer human blood, they developed different techniques to "hunt" their prey. Bed bugs can detect the carbon dioxide ("CO2") coming from our lungs as we breathe out and sense the hormones we produce as warm-blooded animals.
Bed bugs might look small and harmless, but a female bug can lay hundreds of eggs, making the infestation of every home fast and effective.
People usually notice a few bites at first and don't pay too much attention. But, as the infestation becomes more severe, so do the symptoms. Bed bugs can quickly spread across the house and hide in places that are hard to reach because of their flat bodies.
Signs That Bed Bugs Are Present
Bed bugs bite after being attracted by CO2 emitted from humans sleeping. Most of the time, people notice a few itchy marks that come out of nowhere during the night. At the same time, this might be caused by other insects like mosquitoes; you need to look for a couple of other signs that can point to bed bug infestation.
Here are a couple of examples:
There are bloodstains on your sheets caused by the bites;

Unusual dark and rusty marks of excrement on sheets, bed, and even walls;

Egg-shells, skin sheds, and fecal spots around the bed frames and other places;

An unpleasant odor that can be attributed to the bugs' scent glands;
If you suspect you might have pests in your home, there are a few ways of detecting bed bugs, and one of the best is by using a bed bug interceptor.
What Is a Bed Bug Interceptor?
Bed bug interceptors are also known as pitfall traps, and they are simple and effective devices for bed bug monitoring. The entire concept of the interceptor trap is based on the premise that bed bugs are not the best climbers on smooth surfaces.
The design of the bed bug interceptor traps allows them to climb into the dish with the help of the rough surfaces, but they are not able to leave the trap because the "moat" is smooth. This way, all the bugs trying to climb the bed to feed on you or get away from the bed to hiding places are trapped in the bed bug trap.
This simple design will allow you to spot actual bugs and confirm your doubts about bed bug infestation.
Why Is Using an Interceptor Useful?
Detecting bed bugs might sound more straightforward than it is, so using products like this creative bed bug trap will help you a lot. Here are a couple of more things a good interceptor trap can help you with:
You will be able to protect your bed from infestation if there are no bugs present yet;

If bed bugs are present, you can assess the severity of the infestation;

You can evaluate the effectiveness of other bed bug treatments;

You can be sure that pest management is under control not just in homes but also in hotels and other places.
While detecting bed bugs is essential to determine the next best step in your fight against the pests, keep in mind that interceptors can be used to prevent future infestations. Some people add a little bit of talcum powder or diatomaceous earth powder to the trap to make it even harder for bugs to climb and, with that, ensure the trap is even more efficient.
How to Use Bed Bug Interceptors?
Using the interceptor cups is very simple; all you have to do is follow our detailed guide, and you will soon see the results. Here is what you need to do:
Placing Pitfall Traps
Bed bug interceptor traps need to be placed under the posts of beds. Each post needs to be covered with one bed bug trap, but you need to make sure the bed is not leaning on walls or other furniture.
In addition, the sheets, bedding, and other accessories on the bed need to be lifted from the floor to prevent bed bugs from climbing.
Assessing the Infestation
Once you install the interceptor traps, you can leave them there for a few days. For the best results and pest control, it's recommended that you sleep in the bed to attract the potential bugs or use different attractants such as carbon dioxide sources or pheromone attractants.
Keep in mind that using CO2 traps can be toxic inside, so be careful with this technique or sleep in another room.
You can also add a few bed bug glue traps to enhance the effectiveness of the pitfall traps and confirm the infestation even faster. They are chemical and pesticide-free, so you don't have to worry about yourself or your family members.
Cleaning the Traps
Bed bug traps will collect all the unwanted pests and dust, so you can assess the situation and clean the traps occasionally. It's best to use large and smooth bowls to dump the content in and avoid spreading the infestation if some bugs manage to escape.
Every time you clean the traps, you can assess the situation better and see if there are still any bed bugs present. 
Pest Management
In case you notice some bugs in the interceptor trap, you can get rid of them with soapy water or by dumping the content away from your home. But, considering you now know that bugs are present, you can focus more on management.
How to Get Rid of Bed Bugs
A bed bug interceptor can help you detect bed bugs and even prevent them from occupying your bed. But, if you want to remove the pests from your home altogether, you might need a few more tools and products.
There are many ways to get rid of the infestation, but you need to remember that chemical treatments are not always the best solution. Think about eco-friendly options and protect your family in the best way possible.
Here is what you can do:
Wash everything

- High temperatures are going to kill the bed bugs, so you need to wash your sheets, linens, clothes, and pillows to get rid of the nasty pests. If you want to make the washing process even more effective, you can add a bit of

laundry additive

. 

By washing all the potential hiding places in your home, including the sheets and clothes, you will minimize the infestation and the number of bugs. This will make the management of the problem a lot easier.
Vacuum and clean

- While bed bugs most often reside on the bed, you will be able to find them in various places like carpets, wallpapers, and holes in the walls. This is why you need to make sure everything is cleaned and vacuumed. 

To ensure all the bugs are gone you can spray the surfaces with a

Bed Bug Killer Spray

and enhance the effectiveness of all the previous steps. 

Remove all the washable things like laundry and your pillowcases, and clean the rest of the area like shelves, books, and carpets with a vacuum and the spay.
Prevent reinfestation

- Bed bugs are persistent and can survive without food for over a year, so you need to add a couple of more layers of protection. This can include reinstalling the interceptor traps, but also consider investing in

protective sheets

and pillowcases. 

In addition, you should seal all the cracks in the walls and repair any holes the bugs could use to hide during the day.
Final Thoughts
Bed bugs are common pests in the United States, but the good news is that you can monitor and manage the infestation by yourself. There is no need to use expensive and harsh chemicals that will jeopardize your family's health when there are eco-friendly solutions available. Bed bug interceptors work!
With simple tools like bed bug interceptors, you can be sure you are on the right path to a pest-free home.